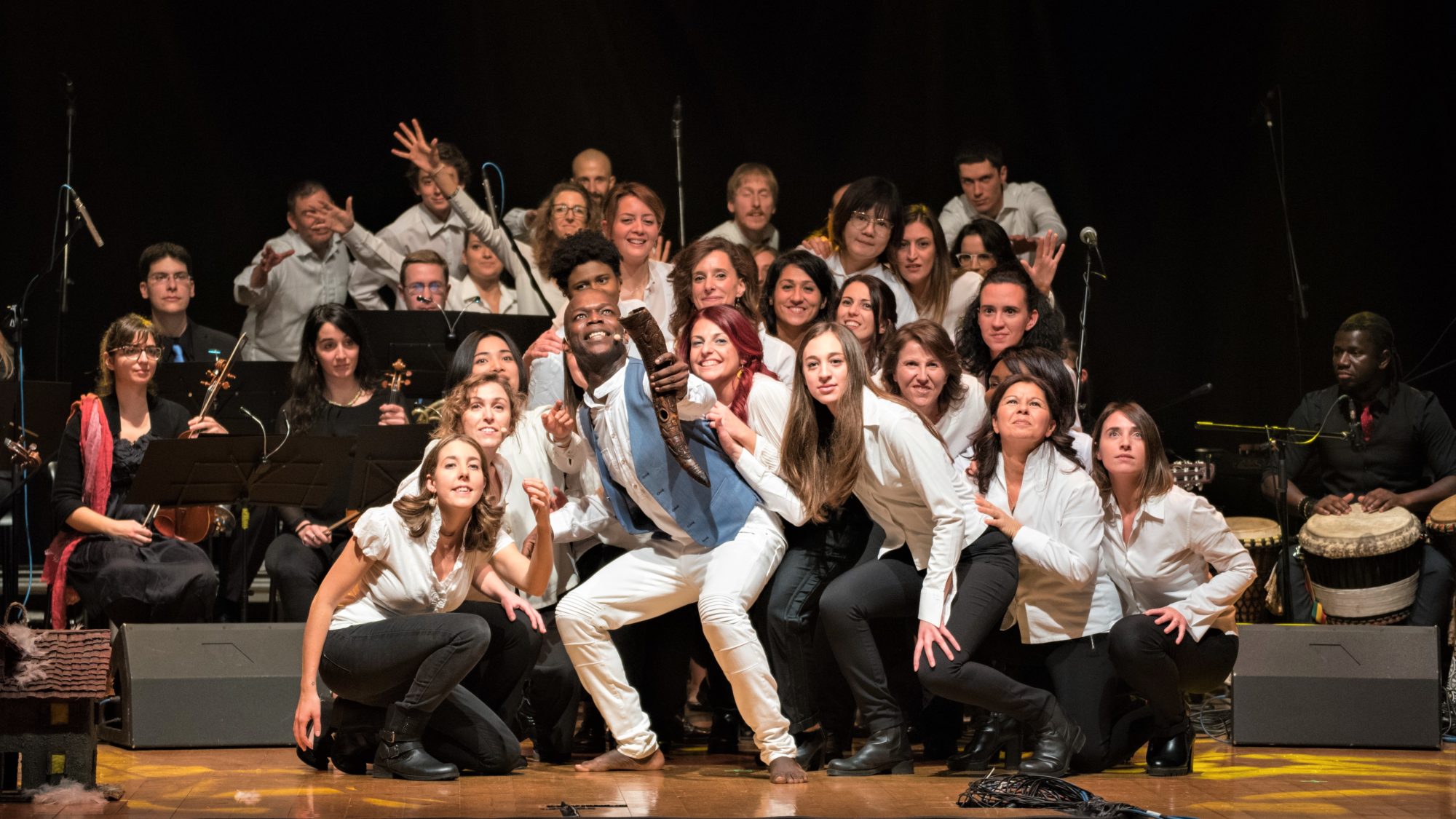 About Us
The ELIKYA INTERCULTURAL CHOIR, (in Lingala, Congo Bantu language, ELIKYA means HOPE) was born in 2010 on the initiative and intuition of master Raymond Bahati, a native of the Democratic Republic of Congo, who immediately took on the musical and artistic direction. The idea to ​​give life to an intercultural choir is born within the experience of the COE (educational orientation center – international Christian volunteer organization) where Bahati works as an educator and psychologist.
Elikya can be defined as a laboratory of research and experimentation creativity that first of all draws on the different musical traditions, in particular the cultures of the members that compose it.  A mosaic of very rich tesserae: 50 elements (choristers and musicians) of different nationalities – from China to Cameroon, from Ecuador to Brazil – including some refugees from African sub-Saharan countries, but also many Italians from various backgrounds – from Lombardy to Piedmont, from Sicily to Puglia – everyone with their respective cultures and traditions. They are different also for religion: Christians of various denominations, Muslims, non-believers and animists.
The musical project gives life to new sound frescoes generated by the interweaving of rhythmic and melodic combinations. The repertoire is characterized by a prevalence of songs drawn from the languages ​​of the origin of its components, arranged by the director himself and by the professional musicians who make up the ensemble. Each event is unique because it is characterized by different formations with accompaniments that combine instruments of the classical tradition to the percussive ones: violin, cello, double bass, flute, guitar trumpet, keyboards, accordion, Djembe, tam-tam, dumdum, cajon, Kora, marimba,  etc .. The proposed events bring together music, entertainment, culture and solidarity, involving the audience in listening and spreading it to an active and exciting participation.
Among the important events in which the choir took part are the World Meeting of Families 2012 in the presence of Pope Benedict, the 2014 Focsiv Voluntary Year Award with Pope Francis, the Day against Trafficking 2016, in Milan with the presence of the Nobel Peace Prize, Kailash Satyarthi. The events organized by Elikya association: "Chaire! The journey of hope", dedicated to the Archbishop of Milan, Monsignor Delpini and "Fuoco dentro" event launch of the new musical project, at the Piccolo Teatro Melato in Milan.